Description
When dismantling nuclear power plants, only a very small part is heavily contaminated with radioactivity and must be stored in a disposal site. The remaining material, mainly broken concrete (building rubble), is decontaminated if necessary and released. After release, the material is stored in conventional surface landfills. The radioactive doses are so low that the material is legally considered non-radioactive. However, rainfall and heavy rainfall events can transport radioactive particles into the subsurface and ultimately lead to a radiation dose in humans.
Previous research has used simplifying assumptions, which may not apply due to the chemically and structurally heterogeneous nature of the building rubble. Therefore, the extent to which the assumptions made are valid will be investigated. The existing models are to be extended in order to include, for example, particle-bound transport and radioactive decay.
Project leaders
Department
Contact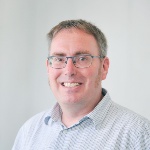 Bernd Flemisch
apl. Prof. Dr. rer. nat.
Professor for "Simulation Technology"